300+ Person Pink Hard Hat Ribbon Launches
Breast Cancer Awareness Month---Creates Visible Call To Action For EMCOR'S 8thAnnual "Protect Yourself. Get Screened Today." Campaign
---EMCOR/F&G Mechanical/Meadowlands Fire Protection, Newport Associates Development and its Newest Building, The Ellipse, Unite at The Ellipse to Form
New Jersey's Largest Human Pink Hard Hat Ribbon---
---$100,000 Donation to John Theurer Cancer Center Breast Oncology Division at
Hackensack University Medical Center---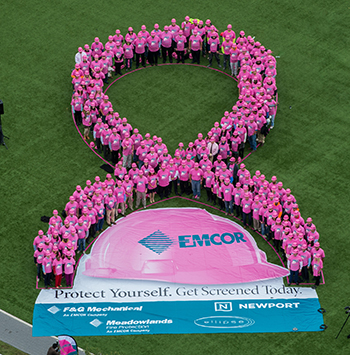 JERSEY CITY, NEW JERSEY --- September 29, 2016 –– EMCOR/F&G Mechanical announced today its employees, along with those of its sprinkler division Meadowlands Fire Protection Corp. (MFP) and representatives from client Newport Associates Development and its newest building The Ellipse, as well as the Hackensack University Medical Center and many others, donned EMCOR Pink Hard Hats and assembled to form EMCOR's signature giant human Pink Hard Hat Ribbon in a "Call to Action" to launch EMCOR's 8thAnnual "Protect Yourself. Get Screened Today." campaign. Tony Guzzi, President and CEO, EMCOR Group, Inc. and the Mayor of Jersey City, Steven Fulop, participated in the event held at the Newport Green Park development in Jersey City, New Jersey.
A $100,000 check, from individual donations and contributions, was presented by EMCOR/F&G Mechanical/MFP to the John Theurer Cancer Center Breast Oncology Division at Hackensack University Medical Center. First Vice Chair of the Board of Governors at Hackensack Hospital, Rosemarie Sorce, and Dr. Deena M. Atieh Graham, M.D., Breast Oncology and Gynecologic Oncology, accepted the check.
Sal Fichera, CEO, and Butch Giardina, President, EMCOR/F&G Mechanical/MFP, presented a Pink Hard Hat plaque to Mayor Fulop, as well as to event partner Jaime LeFrak, each of whom spoke passionately about their support for breast cancer awareness. Jim McGreevey, Former Governor of New Jersey, Bill O'Dea, New Jersey Board of Chosen Freeholders, and Patrick Kelleher, President of the Hudson County Building and Construction Trades also participated and spoke at the event.
"This is EMCOR's 8th consecutive year of spearheading the national Pink Hard Hat initiative. Over the years people have come forward to say they believe this unique way of raising awareness of the importance of breast cancer screening has had a positive impact on their own lives or that of a loved one," stated Sal Fichera, CEO, EMCOR/F&G Mechanical/Meadowlands Fire Protect Corp. "Many of our employees wear hard hats on a daily basis for personal protection, and we're proud of their commitment to wear an EMCOR/F&G Pink Hard Hat in October to raise awareness for breast cancer and remind women and men to get screened."
EMCOR/F&G Mechanical/MFP employees will be joined by thousands of additional EMCOR employees nationally wearing Pink Hard Hats during October at hundreds of work sites, ranging from hospitals to bridges, malls to military bases, and data centers to refineries.
The "multiplier effect" continues as even more people are reached with the "Protect Yourself. Get Screened Today." message when EMCOR employees take the Pink Hard Hats home each night and they are seen by spouses, daughters, sisters, neighbors, and many others.
Millions more people will be reached nationally by EMCOR's fleet of 7,000+ service vehicles, including F&G Mechanical/MFP vehicles, which are displaying Pink Hard Hat posters during October with the "Protect Yourself. Get Screened Today." campaign message.
Visit EMCOR's Pink Hard Hat site: https://emcorgroup.com/pinkhardhat